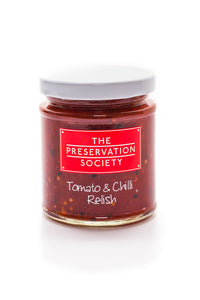 Tomato and Chilli Relish
Our Tomato and Chilli Relish is slowly cooked with Italian plum tomatoes, ripe red bell peppers and Serenade Chillies adding a decadent warmth. Deliciousness topping a burger, great with a chunk of cheese and a delight with a Caerphilly Cheese omelette.
Ingredients: Tomatoes 40%, onions, peppers, chillies 5%, sugar, Aspall's red wine vinegar, MUSTARD SEEDS, nigella seeds, paprika & sea salt.
Allergen Advice: Allergies are highlighted in CAPITALS. All of our delicious products are produced in a kitchen where we use nuts, dairy, gluten and mustards. 
Weight: 200g